Plastic bags are one of several single-use scourges targeted for replacement by innovators looking to reduce plastic waste. While consumers often picture the plastic shopping bag, other single-use packaging such as the polybag generates waste earlier in the supply chain. These clear plastic bags protect garments, shoes, and accessories during transit from manufacturing sites to distribution centers, retail stores, and customers' homes. Still, few sustainable options to replace polybags exist. Helping lead the charge in the apparel sector is Fashion for Good, which was founded as an innovation platform to push the industry away from the linear "take-make-waste" model and toward a more circular, sustainable fashion future. At the recent SPC Impact 2021 Conference, Innovation Platform Director Kathleen Rademan walked attendees through FFG's latest endeavor–The Circular Polybag Pilot, which launched in late 2019.
"We had a fairly good idea of the amount of polybag waste produced every year," said Rademan during the presentation. "We knew that the existing recycled polybags were mostly using pre-consumer offcuts and shrink-wrapped waste, not post-consumer waste. And we knew that roughly less than 15 percent [of polybags] in circulation were actually collected for recycling."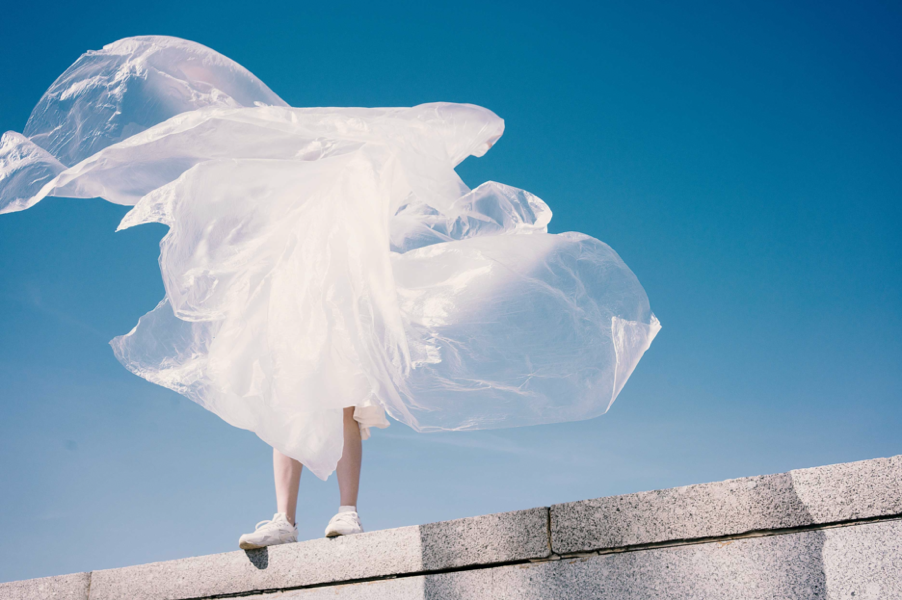 Since few of the 180 billion polybags produced each year are recycled, brands such as adidas, C&A, Kering, Otto Group and PVH joined the European pilot to try and address the issue. Adidas in particular took a major role from the start, and its Senior Sustainability Manager, Maike Hiltner, joined Rademan and SPC's Adam Gendell to present the pilot's results.
Why are we doing this as a company? We want to end plastic waste. We aim to use 100 percent recycled polyester on every product and application where solutions exist by 2024…we're committed to shift to 100 percent recycled polybags by 2021, and we are well on track to meet that goal.

Maike Hiltner, Senior Sustainability Manager, adidas
The pilot's other key contributor was Cadel Deinking, an innovative recycling R&D company from FFG's Accelerator Programme. Its patented technology for removing ink and adhesives from post-consumer polybag waste has already been sold to companies in the U.K., U.S., Italy, France, and Brazil. For the pilot, U.K.-based Mainetti folded Cadel's solution into its own closed-loop recycling and sourcing process for clear polythene, called Polyloop. The bags are collected on-site, turned into pellets, made into new polybags, and returned to the site that supplied the waste.
"[Cadel's] technology removes significantly more impurities and allows them to produce a higher-quality pellet, and that's a higher-quality end product during the extrusion process," said Rademan. "Cadel is majority-owned by their parent company, Gaviplas, which is a very experienced extrusion company. With that came a lot of expertise that enabled them to address this problem."
At the onset of the project, Fashion for Good set three goals for the polybags–be truly circular, use 100 percent recycled content, and reduce the environmental impact compared to virgin plastic. Much to the pleasure of Rademan and all parties involved, the Circular Polybag Pilot was a "resounding success" that hit all three of its stated goals. The first measure–true circularity–was met by collecting waste directly from brands and returning them for reuse following the deinking and pelletization processes. The content parameters were achieved by combining 80 percent post-consumer recycled content with 20 percent post-industrial recycled content. This achieved the 100 percent recycled content benchmark and still ensured quality and clarity expectations were met. Finally, a fast-tracked life cycle analysis was conducted using the eco-cost methodology, and the results indicated the recycled polybags may have ⅕ the impact of virgin bags.
As for lessons learned, Rademan listed three key takeaways. The first was the need to minimize waste contamination; simply put, waste must be of a certain quality to be recycled into a new polybag. Second, Rademan noted how vital a centralized waste collection system is to the success of similar models. Knowing some of the recycled plastic would be too contaminated to repurpose, the pilot made sure to collect enough waste to create appropriate amounts of replacement bags and offset the unusable material gathered on site. Finally, Rademan spoke to the importance of understanding differing legislation around waste and its movement across borders to facilitate similar projects effectively.
Companies are pursuing aggressive pledges to cut down plastic waste and hit sustainability benchmarks over the next decade, so it stands to reason there will be growing interest in polybags, especially in the fashion space. With an initial pilot in the books, Rademan and Fashion for Good are now looking to scale up these endeavors.
We are an organization that's really focused on collaboration, working together and enabling great innovation that solves sustainability issues to scale.

Kathleen Rademan, Innovation Platform Director, Fashion for Good