Leading packaging providers, an innovative American biotech company, and a biomaterials research company join Halo to bring new innovations to the world and move science forward. 
We are delighted to welcome four new customers to Halo's platform: Amcor Limited, a global producer of sustainable packaging; Altium Packaging, a leading packaging solutions provider; Ginkgo Bioworks, an American biotechnology company specializing in genetic engineering; and one.five, a biomaterials research company.
Ginkgo Bioworks

Headquartered in Boston, Massachusetts, Ginkgo Bioworks is the leading horizontal platform that allows customers to easily program cells. Ginkgo's cell programming platform enables the growth of biotechnology applications across a range of markets, including food, agriculture, fragrance and pharmaceuticals. Ginkgo has also supported a number of COVID-19 response efforts, including community testing, epidemiological tracing, vaccine development and therapeutics discovery.
"The interesting thing to program in the 21st century isn't going to be computers — it's biology." – Tom Knight, Ginkgo Bioworks Founder
Learn more about Ginkgo Bioworks' areas of interests and active partnering opportunities.
Amcor Limited

Headquartered in Victoria, Australia, Amcor is a global leader in ethical packaging for food, drink, pharmaceutical, medical, home and personal care products. With a large presence in the Americas, Amcor manufactures and produces flexible packaging, rigid containers, specialty cartons, and closures from a variety of plastic materials and applies a range of molding techniques to create environmentally friendly consumer packaging. Amcor continues to revolutionize eco-friendly packaging solutions to adapt with customers as they increasingly consider sustainability in their everyday purchasing decisions.
"Our product innovation and sustainability expertise are second to none. They provide a clear path to a better environment, while offering a partnership for growth for Amcor and our customers." – Ron Delia, Amcor CEO
Learn more about Amcor's areas of interests and active partnering opportunities.
Altium Packaging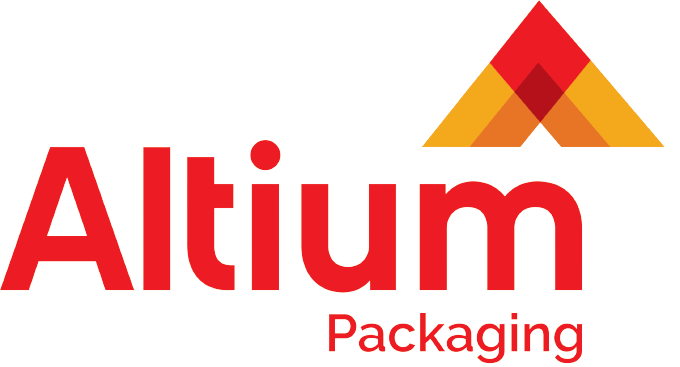 Headquartered in Atlanta, Georgia, Altium Packaging offers stock and customized design, development, and production of plastic containers, closures, and packaging materials. With over 60 plants throughout the U.S. and Canada, Altium strives to magnify client brands through creative packaging solutions. They cater to numerous industries, including healthcare, automotive, household and specialty chemicals, nutrition and more. With a focus on environmentally responsible packaging solutions, Altium continues to be an innovator in PCR usage and lightweight packaging.
"It is a core part of our vision to deliver packaging solutions that help our customers grow their businesses while having less impact on the environment." – Sean Fallmann, Altium President & CEO
Learn more about Altium's areas of interests and active partnering opportunities.
one • five

Headquartered in Hamburg, Germany, one.five is a biomaterials research, development and scale-up company that develops clean, circular and custom packaging and material solutions for customers. Centered around protecting the environment, one.five replaces wasteful and pollutive material with cleaner alternatives to simultaneously protect the planet and their client's products.
Learn more about one.five's areas of interests and active partnering opportunities.
What is Halo?
Halo helps R&D teams collaborate more effectively internally and externally through a suite of software tools and network of researchers spanning 95+ countries. Launched in 2020, Halo works with multiple Fortune 500 companies across biopharma, medical devices, consumer goods, agriculture and other industries.